Simisola Bolatito Kosoko (née Ogunleye; born April 19, 1988), professionally known as Simi, is a popular Nigerian singer, songwriter, and actress. She began her music career as a gospel singer with her debut album, Ogaju, which was released in 2008.
After releasing "Tiff," a song that was nominated for Best Alternative Song at The Headies 2015, she came into prominence in 2014. In the 2022 season 7 of the television program Nigerian Idol, she served as one of the top judges.
Simi got a record deal with X3M Music in 2014, however, once her contract with the label expired in May 2019, she decided to leave the label. On September 8, 2017, she made available her second studio album, Simisola.
On April 19, 2019, she celebrated her 31st birthday and released Omo Charlie Champagne, Vol. 1, her third studio album. In June 2019, she established her record label Studio Brat.
Early Life and Education
Simi, an incredibly talented singer with a melodious voice, holds a unique place in her family as the youngest of four children. Her journey began on April 19, 1988, when she was born in Ojuelegba, a vibrant neighborhood located in Surulere, Lagos State, Nigeria.
During her childhood, Simi faced the challenge of her parents' divorce at the tender age of nine. Despite this difficult experience, she remained resilient and steadfast in pursuing her dreams. Growing up as a tomboy, she encountered criticism and mockery from some individuals, but these challenges only served to fuel her determination to prove herself as an artist and make her mark in the music industry.
Simi's educational pursuits further contributed to her growth and development as a well-rounded individual. For her secondary education, she attended the esteemed Stars International College in Ikorodu, Lagos State, where she honed her talents and nurtured her passion for music. Following this, she embarked on a journey of higher education, enrolling at Covenant University to study mass communication. With her dedication and hard work, she successfully obtained a bachelor's degree, solidifying her academic foundation.
Simi's exceptional talent and resilient spirit have propelled her to great heights in the music industry. Her sonorous voice and heartfelt lyrics have garnered widespread acclaim and a devoted fanbase. With each song she releases, Simi captivates listeners, touching their hearts and leaving an indelible imprint through her soul-stirring melodies.
As she continues to evolve as an artist, Simi's journey serves as an inspiration to others, reminding them that setbacks and criticisms can be catalysts for growth and success. Her unwavering determination, combined with her remarkable vocal prowess, sets her apart as a true force to be reckoned with in the world of music.
Career
Simi was a part of her local church choir as a child and enjoyed singing and dancing. At age 10, she composed her first song. Following the publication of her debut Samklef-produced studio album Ogaju, which featured a range of songs including "Iya Temi" and "Ara Ile," she began a professional music career.
Simi's five-track EP Restless, which she released in January 2014, helped her land a record deal with X3M Music. The EP primarily consists of versions of songs by well-known artists, such as Rihanna's "Man Down" and Adele's "Set Fire to the Rain."
On January 9, 2014, Simi captivated audiences with the release of two remarkable songs, "Tiff" and "E No Go Funny." These captivating tracks quickly became radio favorites, filling the airwaves with Simi's enchanting voice and resonant lyrics. The songs received widespread praise from critics, who commended Simi's artistry and the depth of emotion she conveyed through her music. Notably, "Tiff" emerged as a finalist for the coveted Best Alternative Song category at The Headies in 2015, a testament to its artistic merit and impact.
Simi's exceptional talent did not go unnoticed, and her rise to prominence continued throughout 2015. She was bestowed with the prestigious Most Promising Act to Watch award at the Nigeria Entertainment Awards, further solidifying her position as a rising star in the Nigerian music scene. This recognition affirmed her growing influence and set the stage for even greater achievements in the years to come.
In 2016, Simi took another significant step in her musical journey with the release of "Jamb Question." Displaying her versatility and artistic prowess, the song captivated audiences and further solidified Simi's place as a force to be reckoned with in the industry. Not content with resting on her laurels, Simi enlisted the talented artist Falz to collaborate on the remix of "Jamb Question," infusing the track with a fresh perspective and adding another layer of artistry to the already captivating composition.
Simi's early successes, marked by the acclaimed releases of "Tiff" and "E No Go Funny," as well as the recognition she received at prestigious awards ceremonies, serve as a testament to her extraordinary talent and hard work. With each musical endeavor, she continues to captivate audiences, winning hearts with her soulful voice and relatable lyrics. Simi's unwavering dedication to her craft and her commitment to pushing artistic boundaries have firmly established her as a trailblazer in the Nigerian music industry.
Simi and Falz teamed up to released an extended play titled Chemistry, which was made available on all digital platforms on On October 27. In the movie titled Mokalik, directed by Kunle Afolayan, she made her acting debut, playing an important role which she delivered massively.
Simisola Kosoko, the star of the Studio Brat, who is best known by her stage name Simi, just released her much awaited studio album titled "To Be Honest." Simi, a Nigerian artist, released her fourth studio album, TBH (To Be Honest), in 2020 as a follow-up to her most recent EP, "Restless II."
TBH (To Be Honest) is a collection of 11 steady music that features artists including Fave, Deja, and obviously her spouse, Adekunle Gold. Her success on this studio effort led to her being chosen as the July Spotify EQUAL Africa music program ambassador.
She succeeded Tiwa Savage as the second African musician to be recognized as an EQUAL global and EQUAL African artist. The Spotify EQUAL initiative strives to promote gender equality and give female musicians a platform to be recognized for their contributions.
She joins a group of accomplished African women who are shaping culture and shattering stereotypes in the music business.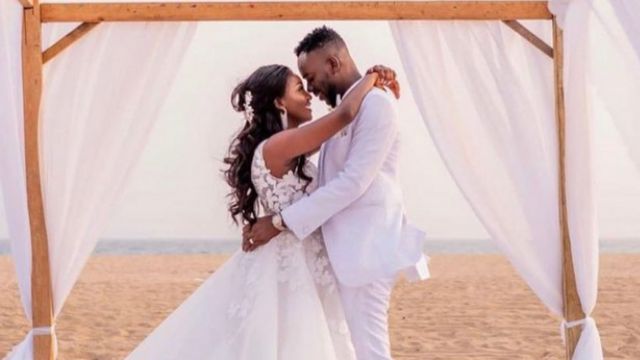 Simi Net Worth
Simi is a Nigerian professional singer and songwriter. She is rich with an estimated net worth of $2 million. Simi is also an actress, music producer and studio engineer,
Personal Life
In a heartfelt union, on January 9, 2019, Simi and Nigerian Afrobeat singer Adekunle Gold sealed their love in a private and intimate wedding ceremony. Prior to their nuptials, the couple had been in a loving relationship for a remarkable five years, nurturing their bond and building a foundation of trust and companionship.
Their joy expanded even further when, on May 30, 2020, Simi and Adekunle Gold embraced the miracle of parenthood, welcoming their first child, a beautiful baby girl named Adejare, into their lives. The arrival of their precious bundle of joy brought an abundance of love and happiness to their family, marking a new chapter filled with cherished memories and endless possibilities.
Simi and Adekunle Gold's love story serves as an inspiration, showcasing the beauty of a deep connection and the strength of their commitment to one another. Their journey, from their years of courtship to the sacred bonds of matrimony and the joy of parenthood, exemplifies the power of love and the blessings that come with it.
As they continue to navigate their personal and professional lives, Simi and Adekunle Gold serve as a shining example of a couple who supports and uplifts each other, cherishing the bond they share and nurturing their family with love, respect, and devotion. With their love story unfolding, they inspire others with their unwavering commitment and remind us of the beauty that exists in building a life together.
Social Media
Instagram: @symplysimi
@SympLySimi